Contents
Welcome to Milan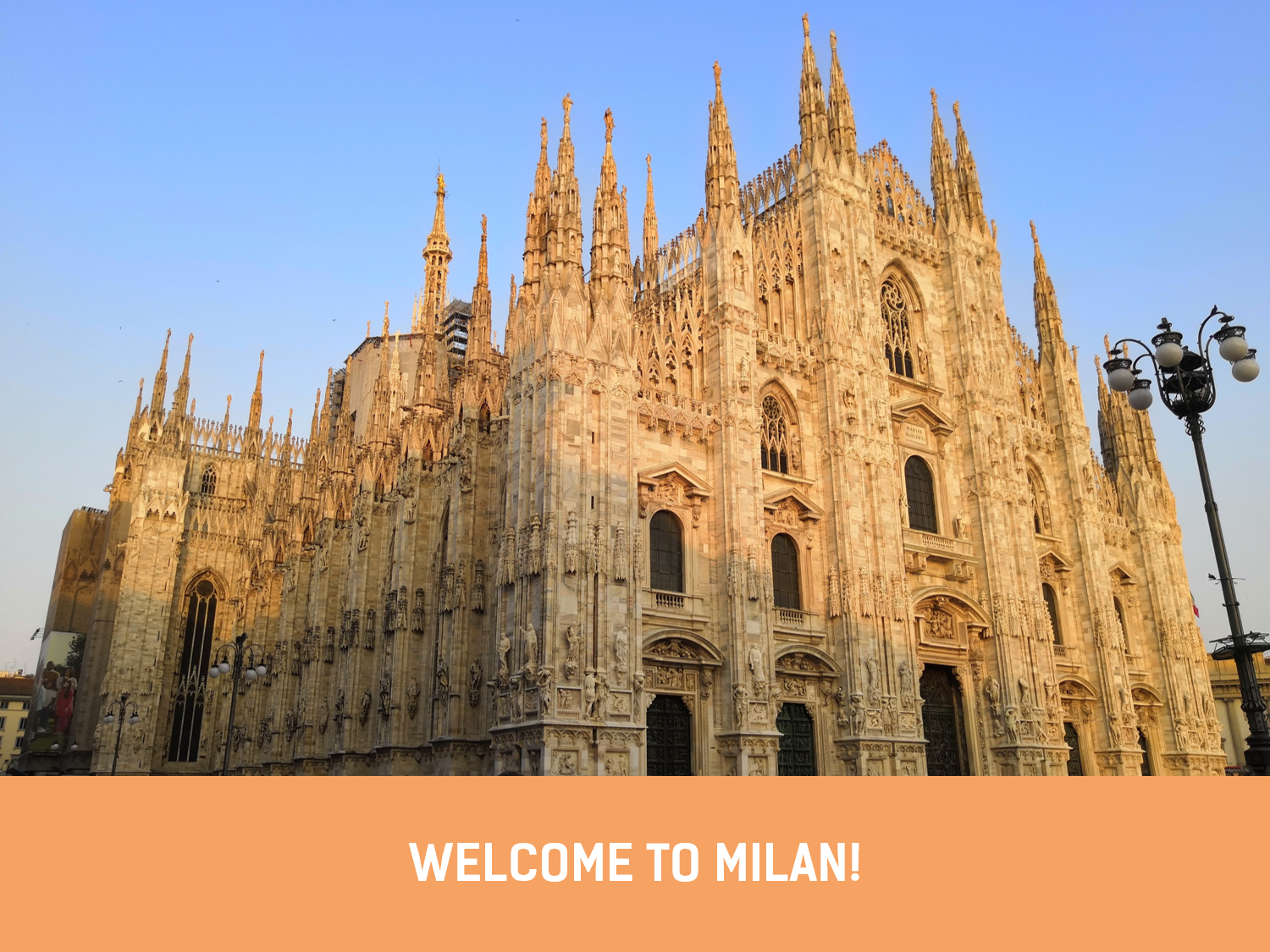 If you are reading this guide, it means that you are coming to Milan for your Erasmus, so congratulations!
In Italy we care a lot about making people feel at home, and we hope that the ESN Milano Statale crew will be able to give you that warm welcome you all deserve!
ESN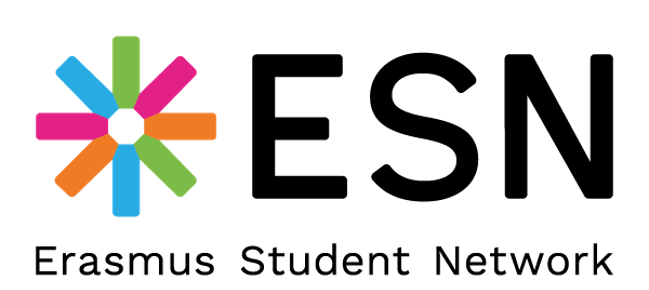 Erasmus Student Network (ESN) is the biggest student association in Europe. It was born on the 16th October 1989 and legally registered in 1990 for supporting and developing student exchange.
We are present in more than 1000 Higher Education Institutions from 41 countries.
We have around 15,000 active members that are in many sections supported by so-called buddies mainly taking care of international students.
Thus, ESN involves around 40,000 young people offering its services to around 350,000 international students every year.
ESN is operating on three levels: local, national, and international.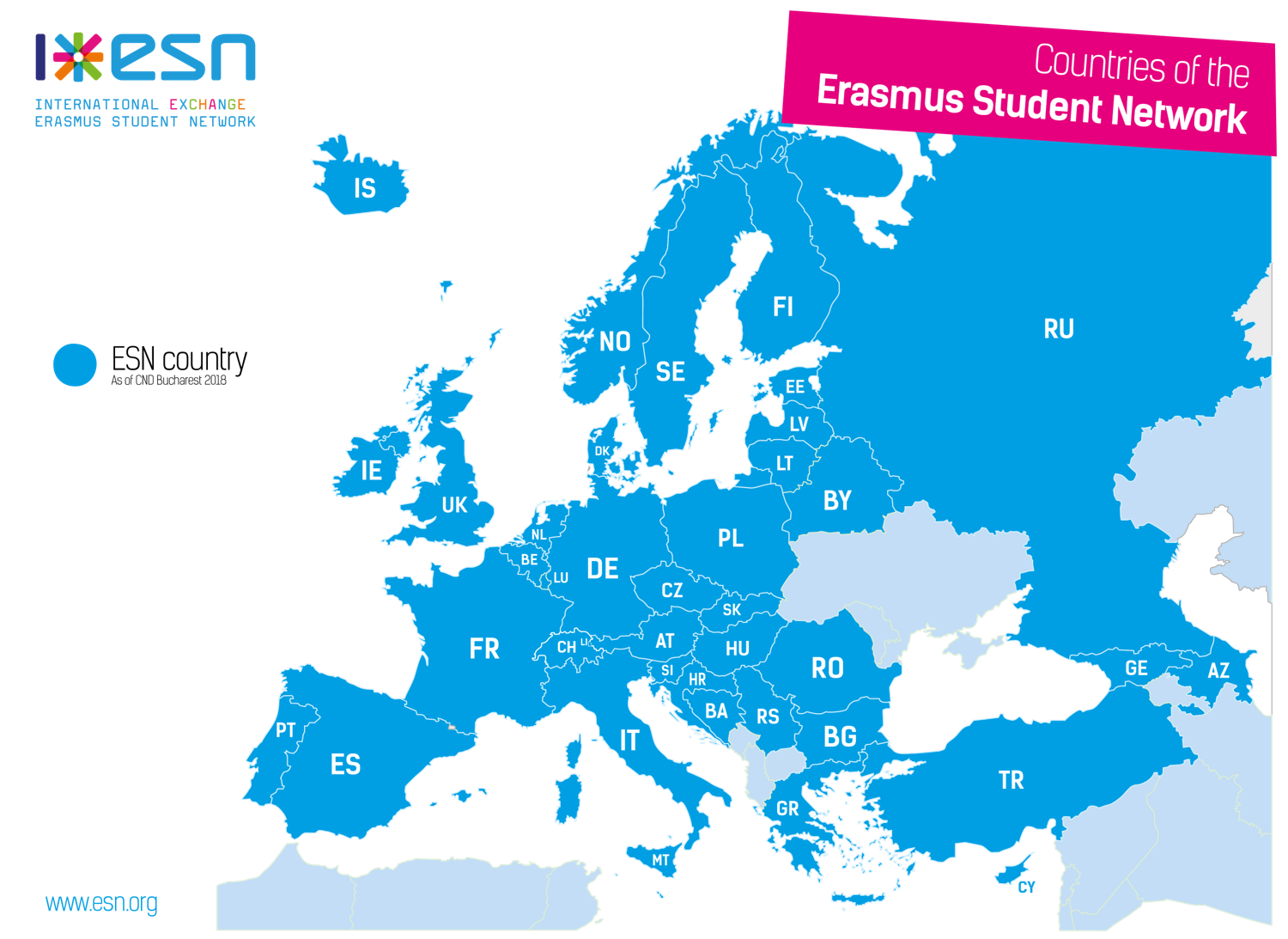 ESN a Milano unita
Sometimes we work together with the other ESN sections of Milan: Bicocca, Bocconi, IULM, Politecnico, Unicatt.
ESN Milano Statale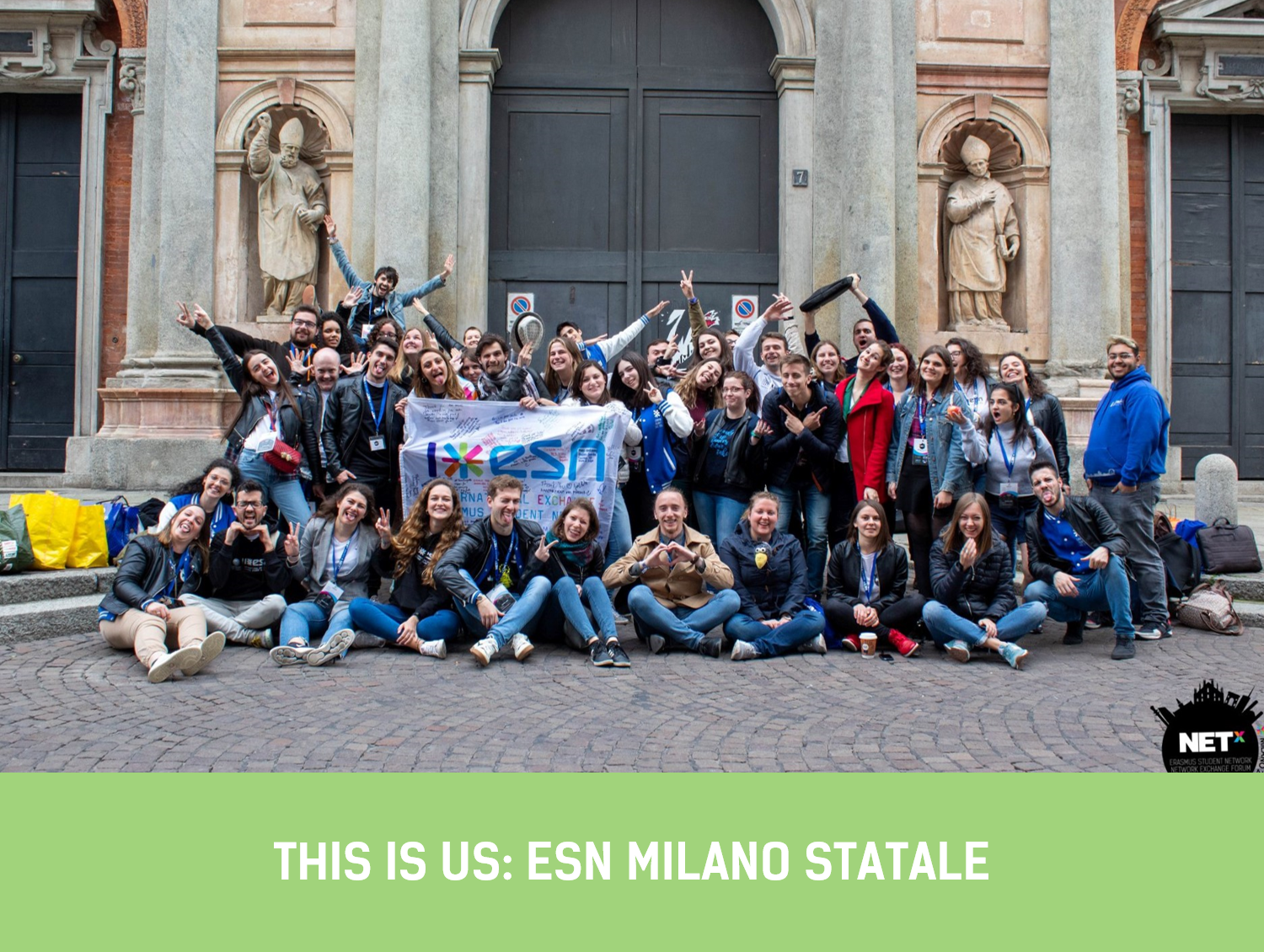 ESN Milano Statale is the ESN section of the Università degli Studi di Milano, and its headquarter is inside the University building (via Festa del Perdono 7).
We are a group of students and we organize any kind of activities for the Erasmus, from the recreative ones (like traveling bar), to the more cultural ones (like city tours and exhibitions) but also sport tournaments, social inclusion activities and trips all over Italy.
We take our volunteering as a mission: our goal is to create the best experience possible in Milan for our Erasmus students.
ESNcard
Our mission is to represent international students, thus provide opportunities for cultural understanding under the principle of Students Helping Students.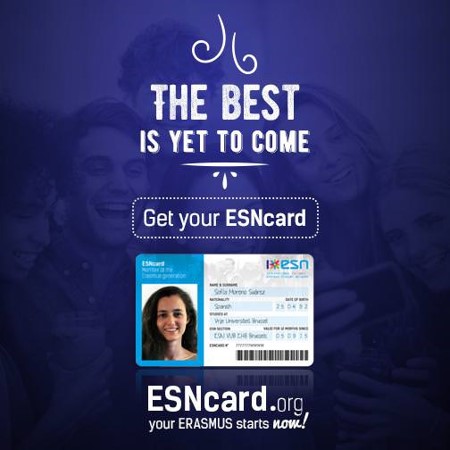 With the ESNcard
You can join all our activities (dinners, trips, parties, city tous and much more!);
You can benefit of our agreements;
You can get a ton of discounts;
The ESNcard is valid all over Europe!
So…what are you waiting for? Get your card at our ESN Office (via Festa del Perdono 7)!
Some of our partners

Do you want to party?
Get your ESNcard and join us with the special prices of our partner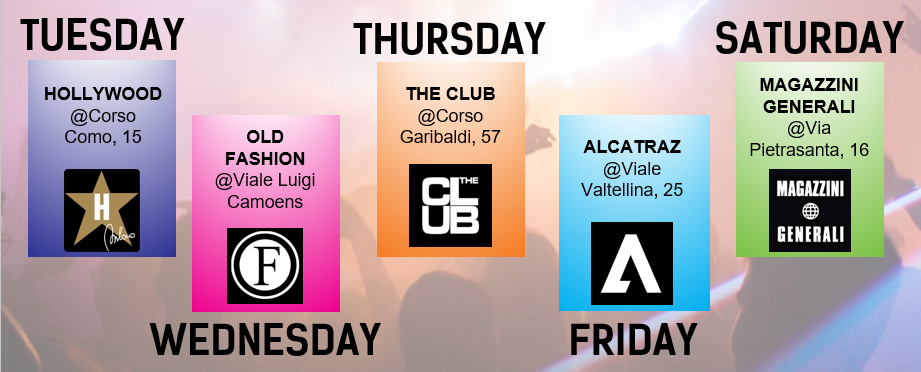 Partners map
Here you can see all the partners that ESN Milano Statale has around Milan, we have prepared a Google map for you:
How to use the ESNcard
To use the card and to see more partners all around Milan and Europe go to www.esncard.org and register your card!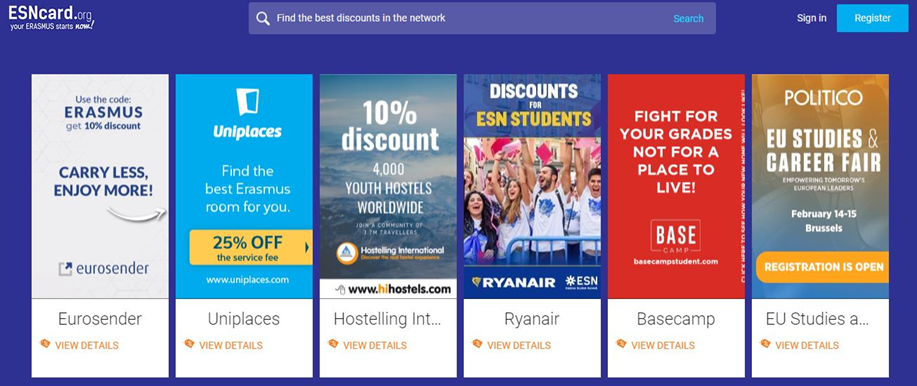 Buddy System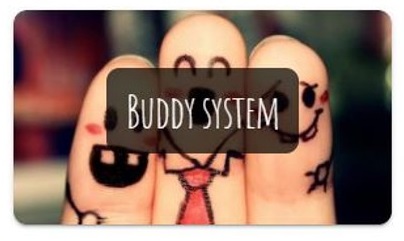 Do you feel scared of being in a new and an unknown city? Don't worry, we're here to help you to feel at home also on the first day!
You have just to register to our Papaya Buddy System: https://papaya.iter-idea.com/#/auth
The Buddy Program is a program that pairs local students with international and exchange students.
The program provides an excellent opportunity to meet students from other cultures and to improve language skills.
One of our volunteers will be your buddy and your first friend!
You can ask to him/her everything you want, you can hang out with him/her and start to know new people from the first day of your Erasmus!
How to register to our events
To register to our events, you usually have to pass to our office to pay and register for an event.
But we have also other ways to get you register easily. We usually use:
Google forms;

Bank Transfers;

PayPal
To pay you can directly send money to tesoriere@esnmilanostatale.it or connect to this link: http://paypal.me/esnmilanostatale.
Pay attention: on PayPal it is necessary to pay an increased fee due the commissions. Just ask to our staff!

Verse
A partnership between ESN Italia and Verse has recently been created to facilitate payments.

Verse is a service that allows Erasmus to pay online for any need. For exchanges of money between Verse users there are no commissions, this makes the service convenient

In addition, everyone can exchange money according to their needs. The result is a gain not only for the exchange between the ESN section and the interested parties, but also among the users themselves.

This is the link to use and to download the application.

This is the link of ESN Milano Statale to pay and register to our events.
You can always be updated about all our events here:
ESN Milano Statale website
WhatsApp and Facebook Groups that we change every semester.
Or you can ask to our staff to get more informations
Arrivals and Transportation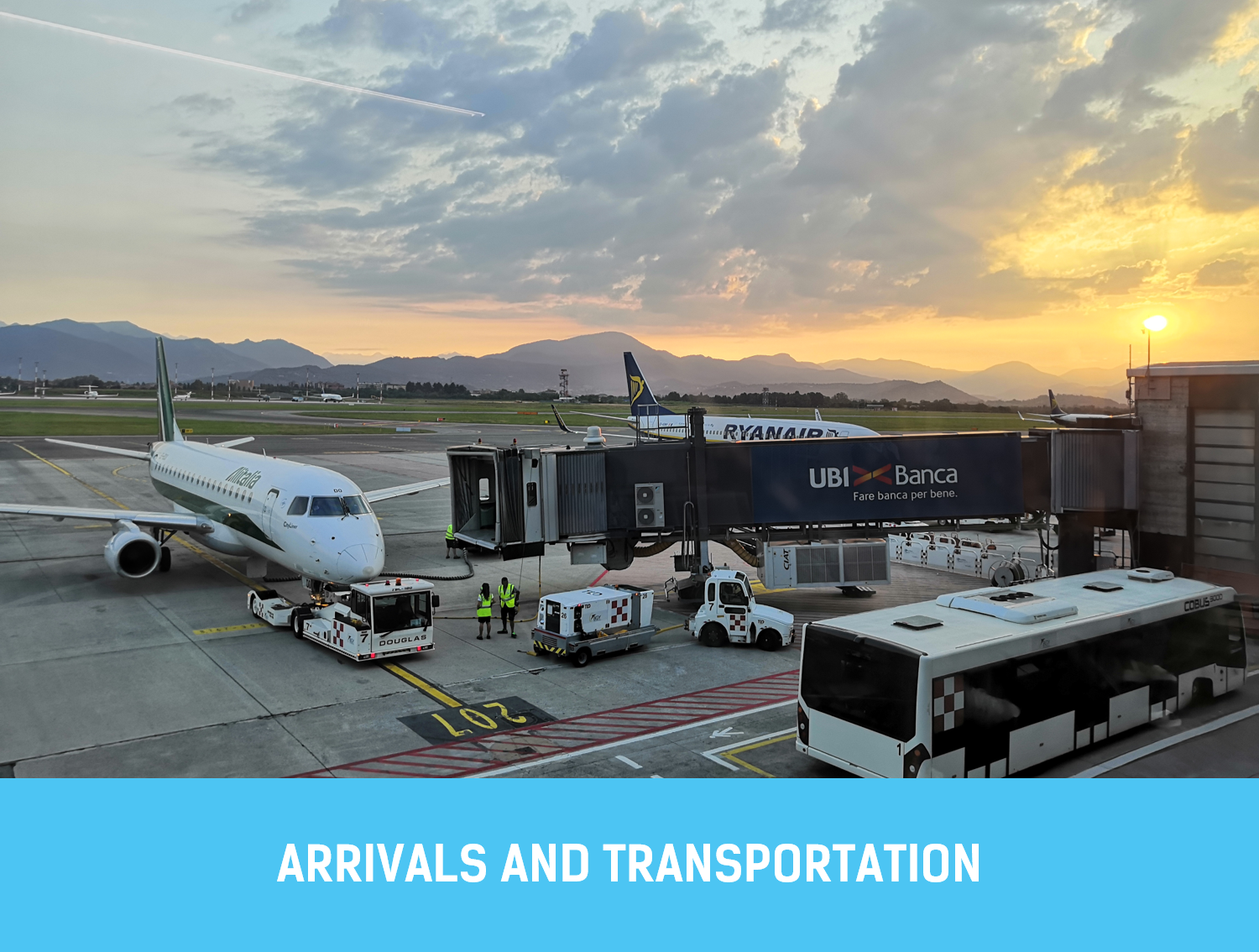 Bergamo Orio al Serio to Milan Central Station
Bergamo Orio al Serio airport is 45km from the city center of Milan and it has 1 terminal.
Bus
Train
Taxi
Service operated by Autostradale, Terravision or Orio Shuttle.
The serve is provided from 4:35 until 23:40 every 20/30 minutes.
The trip takes 50 minutes.
One ticket costs 10€ on the bus and up to €6 online.
There is no train from this airport
Fixed rate from €100 for 1-3 people and from €110 for 4-6 people
Milano Malpensa to Milan Central Station
Malpensa airport is 50km from the city center of Milan and it has 2 terminals.
Bus
Train
Taxi
Service operated by Autostradale, Terravision or Malpensa Shuttle.
The serve is provided from 6:10 until 00:10 every 20 minutes.
The trip takes 50 minutes.
One ticket costs 10€ on the bus and online.
Service operated by
Malpensa Express from 5:37 to 22:37. The trip takes 54 minutes.
One ticket costs €13.
It costs around €90.
Milano Linate to Milan Central Station
Linate airport is the closest: just 7km from the city center of Milan and it has 1 terminal. It is the only airport reachable with the urban transport ticket.
Bus
Train
Taxi
Service operated by Air Bus Linate or Linate Shuttle.
The serve is provided from 6:30 until 23:30 every 30 minutes.
The trip takes 25 minutes.
One ticket costs 5€ on the bus and online.

PUBLIC TRANSPORT LINE 73 (to Duomo)
Departures every 10 minutes.
The trip takes 30 minutes.
One ticket costs €2,00.

There is no train from this airport
It costs around €40.
Public transport tickets
Urban ticket: €2,00 (lasts for 90')
Daily ticket: €7 (it is valid for 24h from the first validation. It's without limit on the number of trips)
3 days ticket: €12
Cumulative 10 tickets: €18 (10 Urban Tickets lasts for 90' each)
Weekly subscription: €17
Monthly subscription: €22 (only for under 26 yo otherwise €39)
Annual subscription: €200 (only for under 26 yo otherwise €330)
Other info and the updated timetable can be found on Google Maps, www.atm.it and the apps Moovit, ATM Milano Official App and Citymapper.
The metro service starts around 5:30 and ends around 00:30. During the night the Metro service is not active, but there are Replacement Buses.
You can find a detailed map of Milan's underground map here.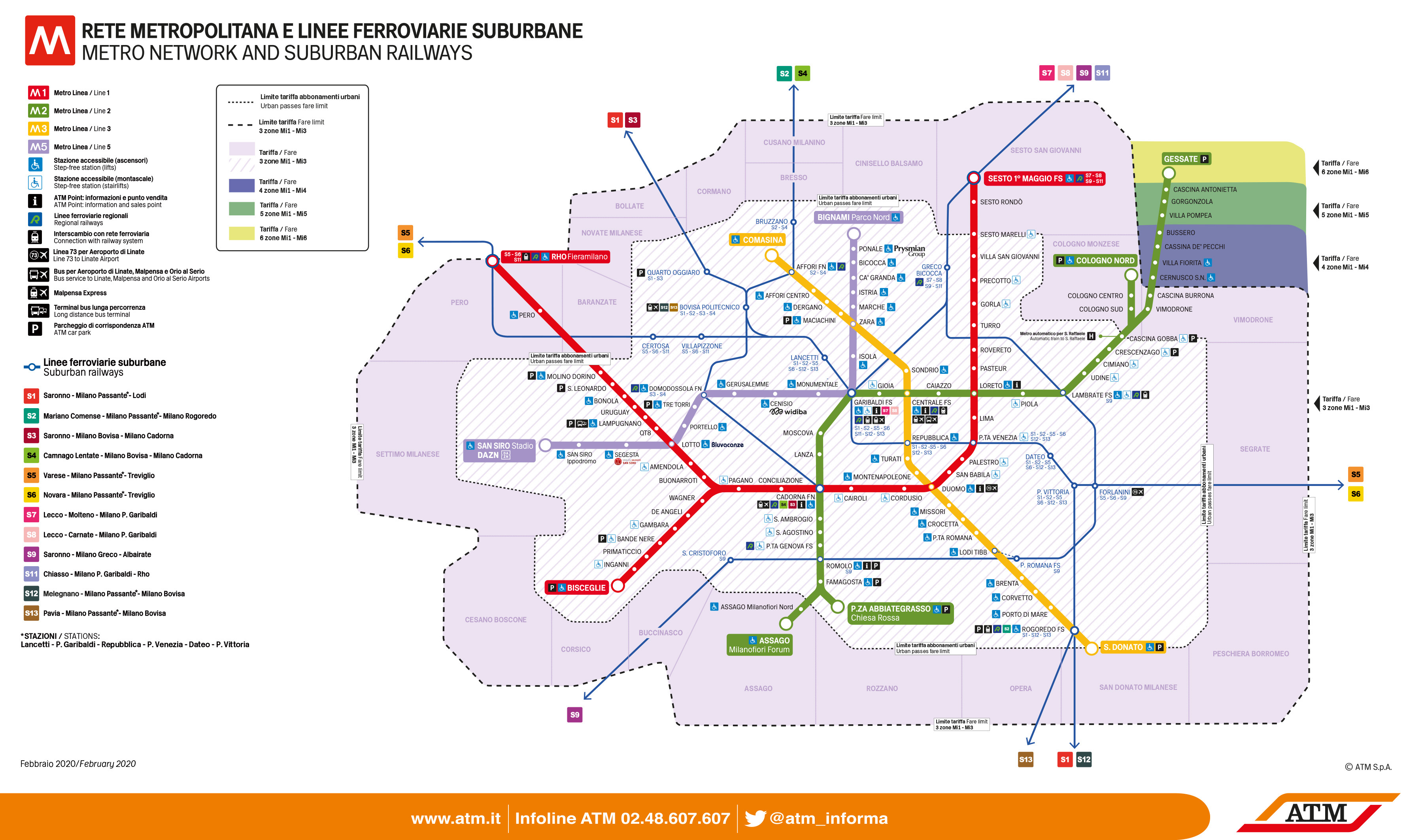 Taxi
Taxi services in Milan are quite expensive, so we suggest to use public transport service.
By the way, there are some numbers in case of need (they work 24h):
024040
025353
026969
028585
You can also use several apps for the taxi service: WeTaxi, MyTaxi, FreeNow, AppTaxi, Uber. With these apps you do not need cash and you can pay directly via app.
Università degli Studi di Milano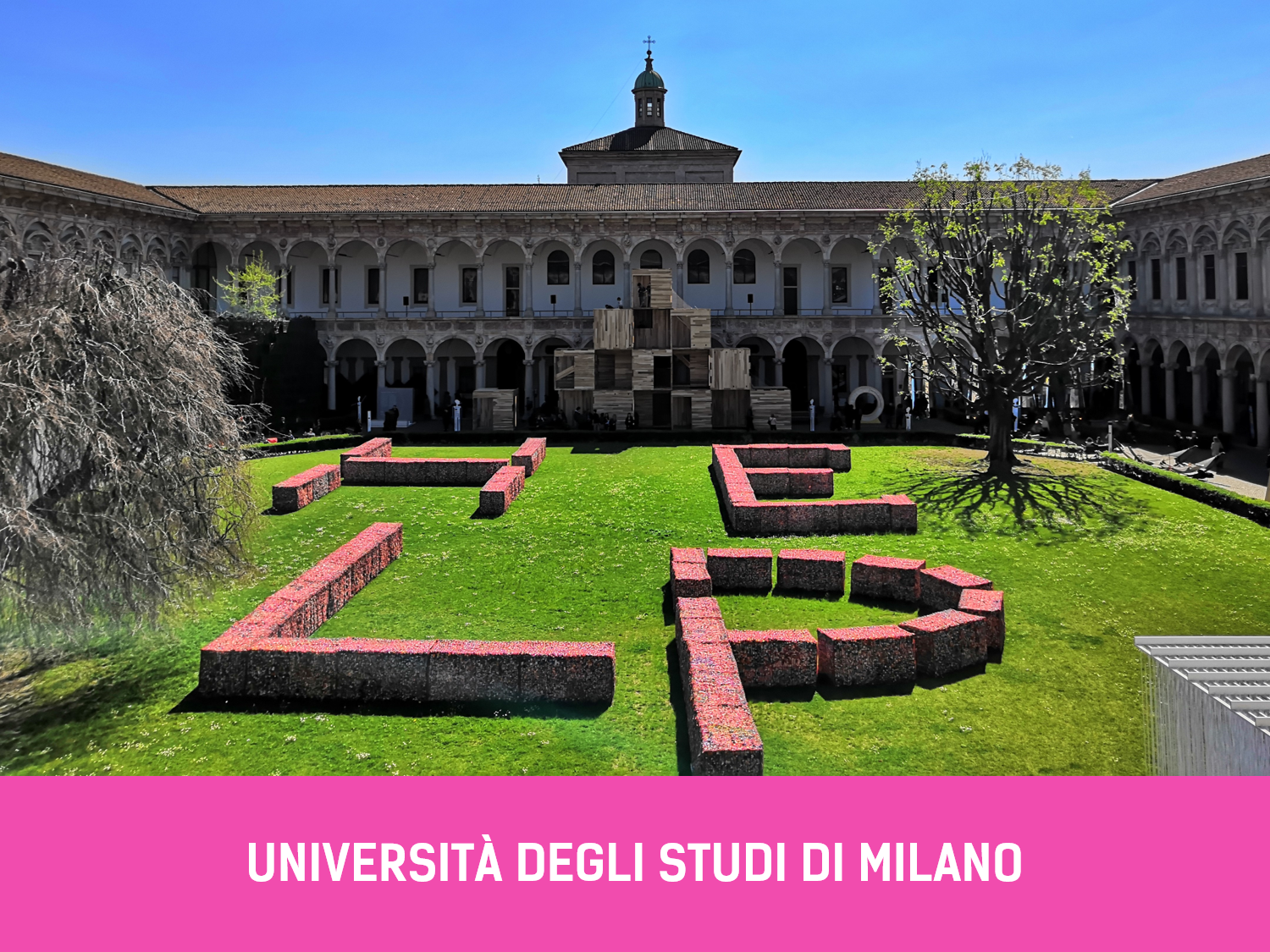 One of the youngest university in Italy
Also known as 'La Statale', the University of Milan is, relatively speaking, one of Italy's younger university institutions. It was founded in 1924 thanks to the tenacious efforts of doctor and gynaecologist Luigi Mangiagalli, who in creating La Statale, realised his long-held dream of building a university for Lombardy's regional capital.
The founder
A representative of the Chamber of Deputies in 1902 and later mayor of Milan, Mangiagalli, together with a group of Milanese members of the Association for the Promotion of High Culture, set about creating the city's very first university.
University system
Another key step forward came with the reform of the university system which introduced the distinction between the Laurea triennale (Bachelor's degree) and the Laurea magistrale(Master's degree). Since the reform was first applied by the University in the 2001-2002 academic year, the number of degree courses on offer has increased from 47 to 74.
University office hours and Infopoint
As international student you can contact directly the Welcome Desk by writing to: international.students@unimi.it
If you need to call the University from abroad the number is 0039 056676357, the cost may vary based on you contract. The service is available from Monday to Friday, 9am to 5pm.
The International Relations Office is open every day from Monday to Friday from 9am to 12am. You can find the Office on the first floor of the main garden in Via Festa del Perdono 7 taking the stairs on your right after the main entrance, no booking needed.
You can book an appointment with the Administration Office by logging into InfoStudenti services, if you do not have an account you can freely create one on the Unimi website. If you don't have an appointment the Office is open with free-access every Monday-Wednesday-Friday from 9-12am. The International Desk is located in Via Santa Sofia, 9.
Accomodation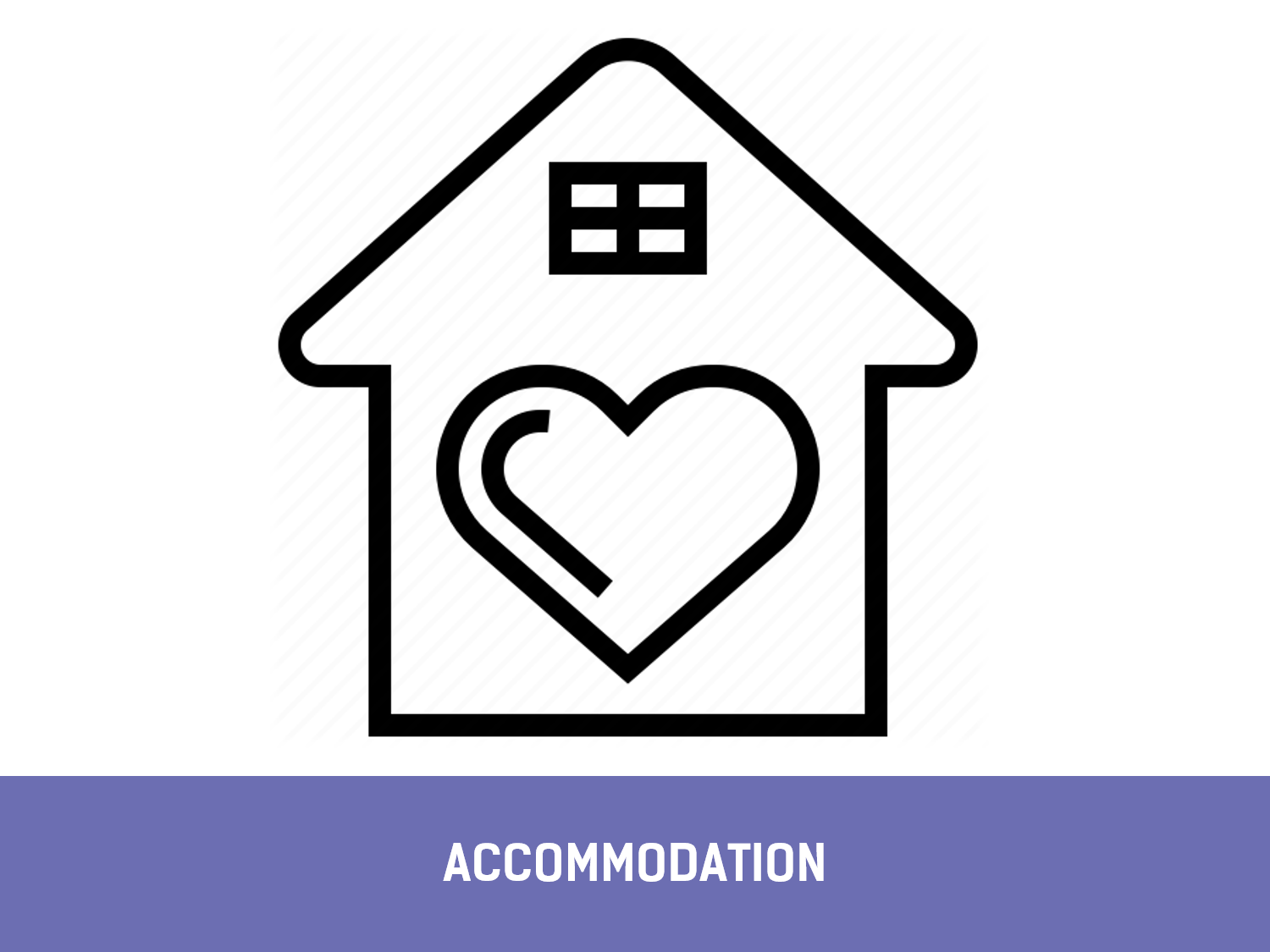 Finally! You, your Erasmus documents and the luggage are ready, there is only one thing missing: where are you going to sleep?
We know that finding a house or a room (or even just a bed) in Milan seems to be a huge adventure, but we are here to help you! Scrolling down you will find some good solutions. For example, you can start thinking to the Accommodations of the Università degliStudi di Milano!
Residenza Bassini

Street Bassini, 36/38 – Città Studi
Public transport: tram 23, 33; filobus 93; MM2 Lambrate.
Phone number: 02.26684980
Residenza Plinio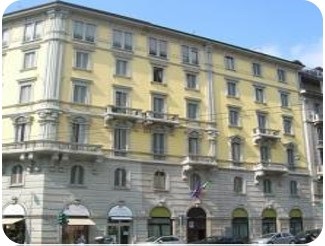 via Plinio, 44- 20129
Public transport: tram 33; Autobus 92; Filobus 90/91
Phone number: 02.29512700
Residenza Ripamonti

via Muzio Attendolo detto Sforza, 6 – 20141
Public transport: tram 24, bus 33
Phone number: 371/1386021
Residenza Santa Sofia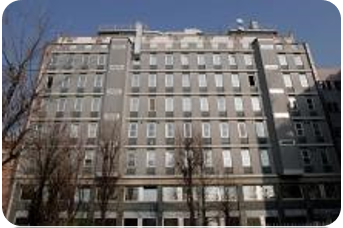 Via Santa Sofia, 9
Public transport: tram 24, 16; autobus 94; MM3 Missori, Crocetta
Phone number: 02.5830.0885
Residenza Canzio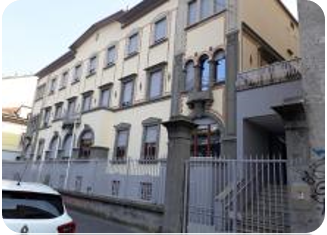 via Canzio, 4 – 20131
Phone number: 02.29401970
Residenza Cascina Codazza

via Pierre e Marie Curie
26900 Lodi
For more information take a look here: https://www.unimi.it/en/study/financial-support/accommodation/residences
ESN Partners
Moreover, now that you are with ESN you can sleep peacefully in every sense! Indeed, ESN has a partnership with the agency Spotahome: the ultimate in international, mid-to-long term accommodation.
Their goal is to save you as much time, stress and money as possible when looking for your Erasmus flat.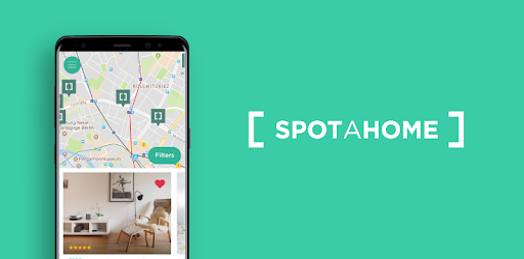 You just have to go on the website https://www.spotahome.com/.
If here you find something suitable to you, ESN gives you a promo code.
Using the Promo Code given by ESN Milano Statale you will get a 30% discount on the booking fee!
Write to one of our staff to get the code!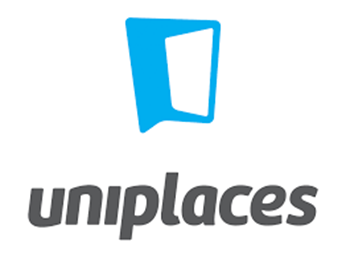 Wait! That's not all! ESN offers you also a discount with Uniplaces: the fastest-growing online platform helping students around the world find a home in Europe, which has already booked more than 7 million nights in over 30 European cities!
You just have to search for the best solution on the website: https://www.uniplaces.com/.
Then just ask to our staff for the voucher and use it!
Easy, right?
We are sure that you will find the perfect room soon!
About Milan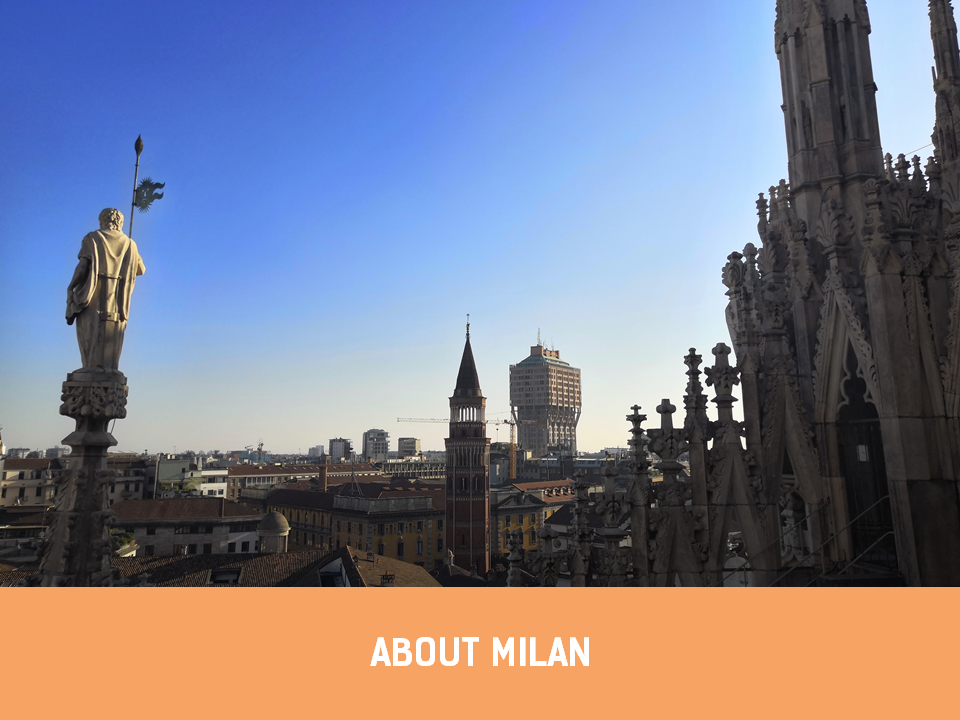 The City
Milano is the second most populated city in Italy, with an urban centre that counts more than 1 372 000 inhabitants. Universally recognized as the Fashion Capital, the city lays right at the centre of Europe, proving to be a fundamental crossroad for economy and a vivid cultural meltin' pot.
Boasting the 3rd largest economy in Europe, after Paris and London, a fascinating history and 2 of the most decorated football team in the world: A.C. Milan and F.C. Inter.
Duomo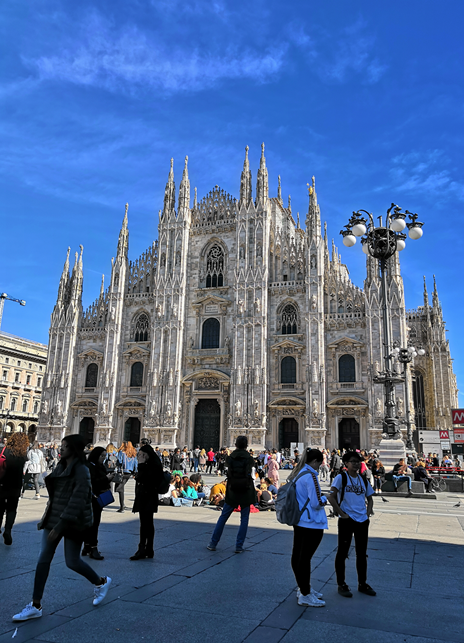 The Duomo di Milano is the Gothic cathedral church of Milan, dedicated to St. Mary of the Nativity, with at top the 'Madonnina Statue', that is visible during the sunny days.
This is the symbol for the city of Milan and until a few years ago it was the highest point in the whole city.
Castello Sforzesco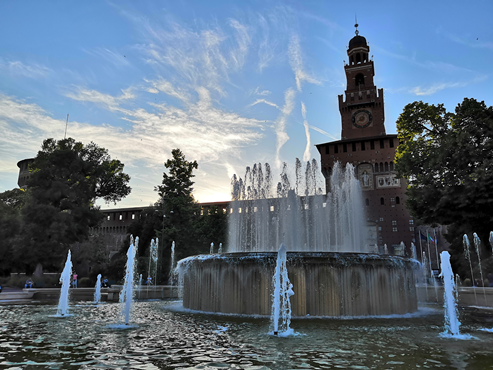 The Castello Sforzesco di Milano (in english Sforza Castle) was considered for centuries an emblem of tyranny and foreign domination.
It was built from Francesco Sforza, Duke of Milan in the 15th century and now is an incredible museum that you can visit!
Piazzale Cadorna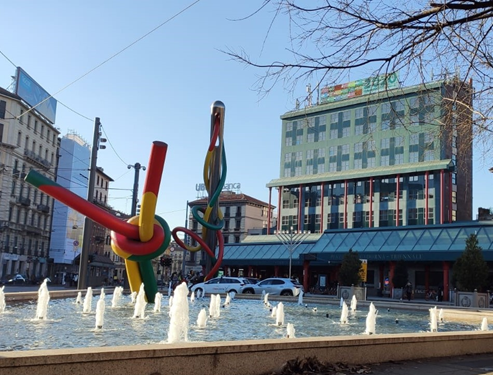 Piazzale Cadorna (Cadorna Square) is dedicated to one of the Italian army chiefs during the First World War, Luigi Cadorna. It is sited in the centre of Milan, near Cadorna Railway Station. In the square is located the sculpture Needle, Thread and Knot (Ago, Filo e Nodo) made at the start of 2000. The sculpture was made by Claes Oldenburg and Coosje van Bruggen.
This enormous piece comprises a 19-metre tall steel needle, stuck into the ground, and a multi-colour reinforced fibreglass thread, 86 metres long, that pops up in another point of the square with a knot on its end. It is not a coincidence that the sculpture disappears underground as it features the colours of the first 3 underground lines, linking above and below. One of the new symbols of Milan, it is a tribute to the creative and hardworking nature of the Milanese and Milan fashion.
Piazza Affari – Borsa Italiana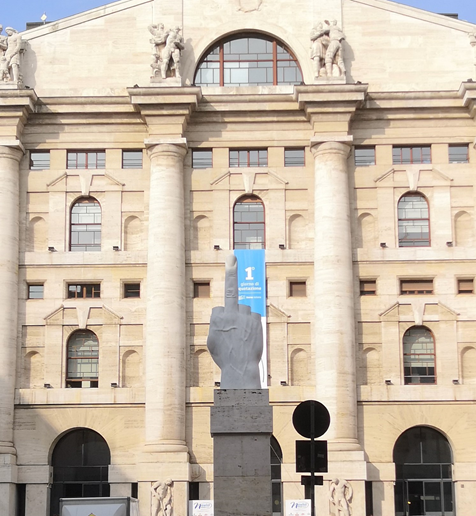 Not too far from the Duomo Cathedral, from the Sforza Castle and from Cadorna there is Piazza Affari, where the Italian Stock Exchange has its headquarters. In the square there is an iconic sculture: it is a marble statue depicting a hand with only its middle finger standing up. If you look closely, you'll see that the other fingers are not flexed, but they look as if they were cut off.
The impression is the same nevertheless: an unambiguous "giving the finger" to the world of bankers and CEOs. The statue bears the title of L.O.V.E., which stands for Libertà, Odio, Vendetta, Eternità (Freedom, Hate, Vengeance, Eternity) and was created in 2010 by the Italian artist Maurizio Cattelan, known for his provocative works. The statue was supposed to stay in Piazza Affari for just a couple of weeks, but the city government decided to keep it there indefinitely.
Teatro alla Scala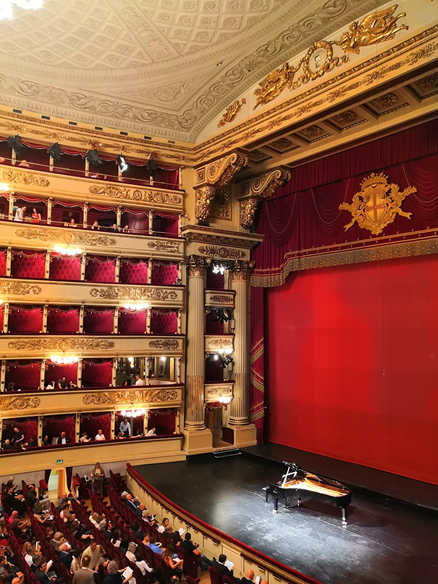 The Teatro alla Scala of Milan is an opera house. It was inaugurated on 3rd August 1778 and originally known as the Nuovo Regio Ducale Teatro alla Scala. Designed by the great neoclassical architect Giuseppe Piermarini, La Scala opened on 3rd August 1778 with Antonio Salieri's opera L'Europa riconosciuta, to a libretto by Mattia Verazi.
With the ESN card we could get special prices to see shows at Teatro alla Scala, don't miss this opportunity!
Palazzo Reale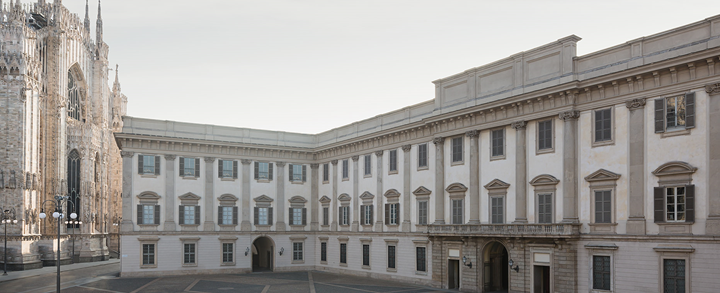 With ancient origins and full of history, Palazzo Reale (Royal Palace of Milan) today serves as a cultural centre, hosting also expositions and exhibition.
A work also rewarded by the public: with a result that for years has consistently exceeded one million visitors a year, the exhibitions of Palazzo Reale are increasingly leading the ranking of the most visited ones in Italy.
Piazza Gae Aulenti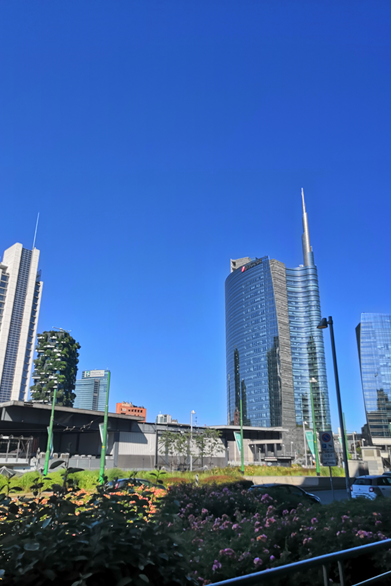 Piazza Gae Aulenti represents the new face of the city, the symbol of a metropolis that is changing and looking ahead to the future. Designed by the Argentine architect Cesar Pelli as a stunning new gateway to Milan, it was inaugurated on December 8th, 2012 and dedicated to the architect and designer Gae Aulenti.
A significant accolade to a woman who, thanks to her extraordinary creative talent, managed to distinguish herself in times, and in a profession, that was predominantly male. Paved with slate, it is surrounded by two levels of canopies in iron, wood and glass built in accordance with the principles of eco-sustainability; it is covered with solar panels that provide power for the three adjacent towers.
Navigli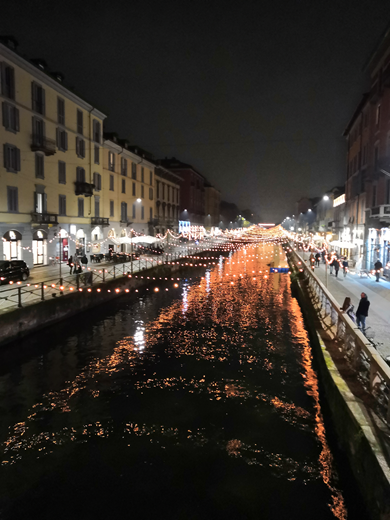 This area is undergoing substantial renovation and is considered one of the most charming residential areas of the city. The neighborhood is always buzzing by day it is the location for many markets, art galleries and craft shops, at night it is illuminated by the lights of masses of bars and restaurants making it one of the most lively and attractive districts of the city.
In fact Milano's Navigli canals were set up as a waterway system used to transport people and goods for irrigation.
Curiosity: The marble for the construction of the Duomo, which came from the Candoglia quarry, was transported along the Naviglio Grande from the river Toce and Lake Maggiore.
Cimitero Monumentale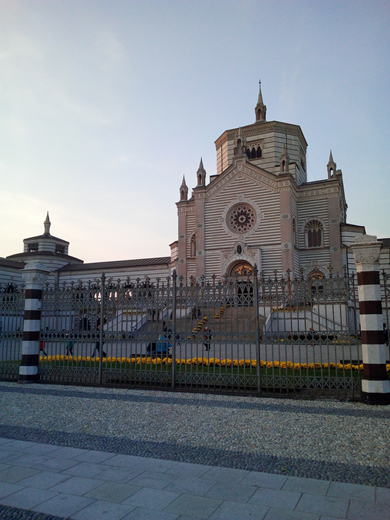 The Cimitero Monumentale is an authentic open-air museum, freely accessible every day, which regularly hosts readings, concerts and tours. The Monumental Cemetery, more than just a simple cemetery, is an extraordinary outdoor museum. It is as if some of the great sculptors of the 1900s were called together to elaborate and reflect on a particularly demanding theme, to be precise, death.
San Siro Stadio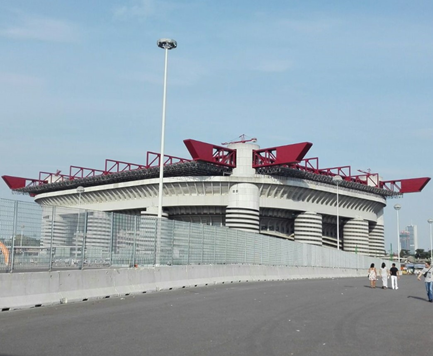 The San Siro stadium, whose construction was brought about by the then-president of A.C. Milan Piero Pirelli, was built in 1925 in the neighbourhood with which it shares its name. At the beginning it was the official football field for A.C. Milan. In 1947 it became the official location for Inter as well. In 1980, the San Siro stadium was named after Giuseppe Meazza, who had been a football star not only for Inter, for which he made his debut at 17, but for Milan as well.
Tre Torri / Citylife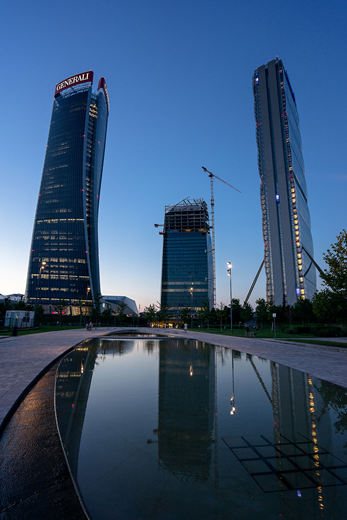 A new public plaza and retail centre in the city of Milan. CityLife is a residential, commercial and business district under construction situated a short distance from the old city centre of Milan. Let's focus on the 3 skyscrapers:
Il Dritto ("The Straight One") - Allianz Tower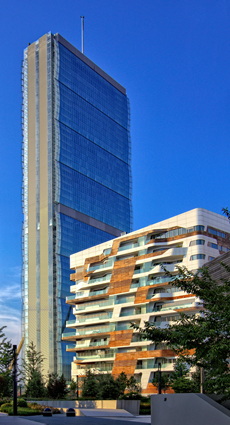 Lo Storto ("The Twisted One") - Hadid Generali Tower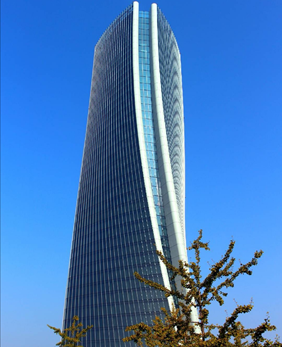 Il Curvo ("The Curved One") - Libeskind Tower
Arco della Pace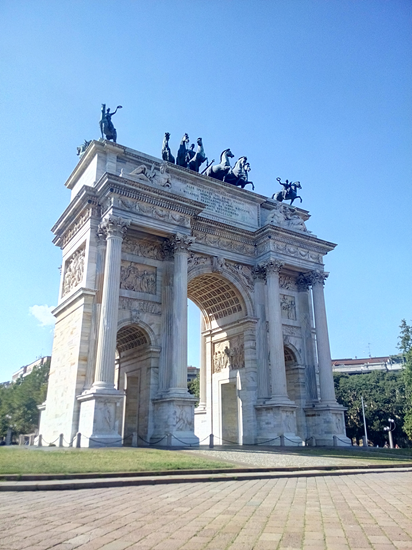 In a round square with a metaphysical atmosphere, designed by Vittoriano Viganò, the Arco della Pace is structured like a triumphal arch with three arches, with 4 colossal fluted Corinthian columns and an arch greater than 14.24 m, entirely in granite of Baveno and covered in Crevola d'Ossola stone.
On the attic was placed the bronze sculptural group of the Sestiga della Pace with four Victories on horseback.
Basilica di Sant'Ambrogio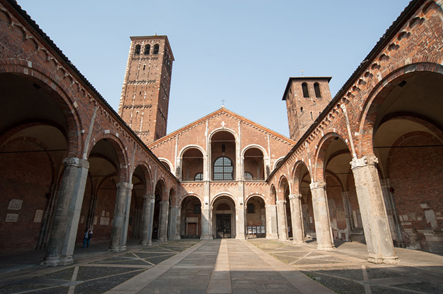 Together with the Duomo, the Basilica of Sant'Ambrogio is the cradle of history and spirituality in Milano and a treasure trove of sacred art.
Great popular devotion revolves around the basilica that has always been a destination
for pilgrims and visitors. Today, the Basilica, dedicated to the bishop of Milano, is a magnificent example of Romanesque architecture in Lombardy.
Santa Maria delle Grazie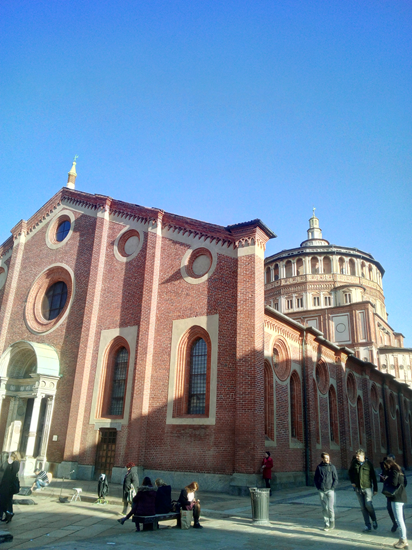 Santa Maria delle Grazie, a UNESCO World Heritage Site and an exceptional testament to Renaissance architecture in Milano, is a fundamental monument for visitors who wish to fully appreciate the historical splendours of the city. The church of Santa Maria delle Grazie is inextricably linked to the unrivalled masterpiece in the convent's former refectory: "The Last Supper" by Leonardo da Vinci.
What to do in Milan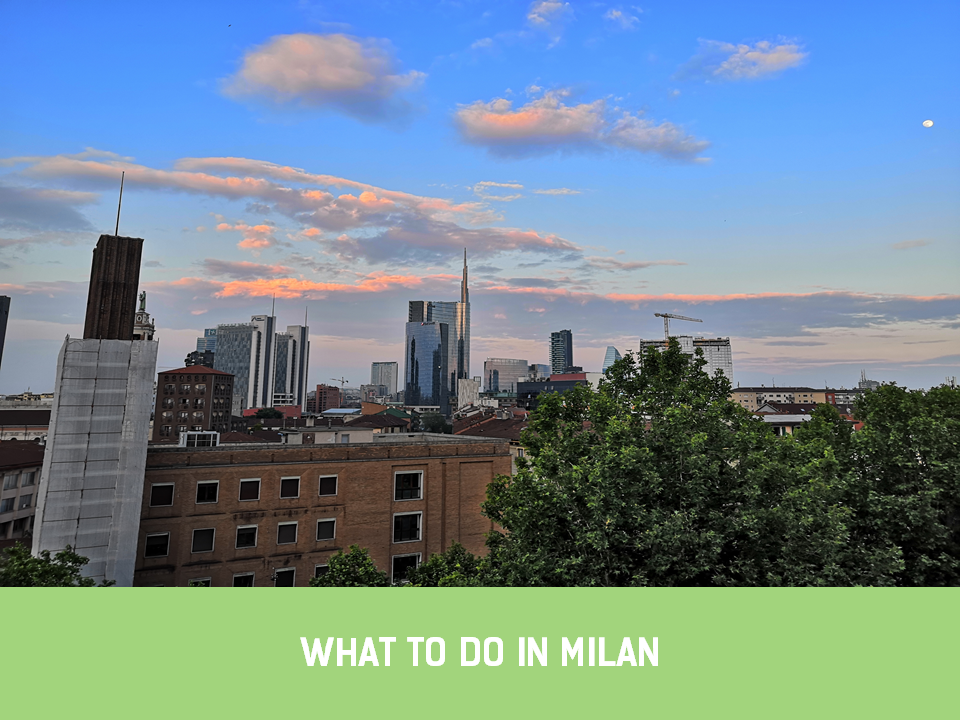 Milan's Best Parks
Parco Sempione
Giardini Pubblici Indro Montanelli
City life park
Giardini della Villa Belgiojoso Bonaparte
Bosco in città
Parco Monte Stella
Parco Sempione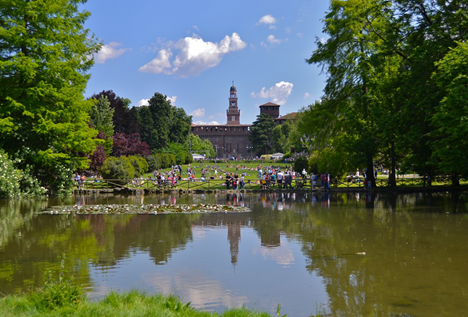 Parco Sempione ("Simplon Park") is a large city park set in Milan since 1888. The park is adjacent to the gardens of the Sforza Castle and to the Arch of Peace, two of the
main landmarks of Milan. In this park there are the Arena Civica, the public aquarium, and Torre Branca (the Branca Tower).
How to get there: M1 (Red Line) Cairoli. Near Castello Sforzesco and Arco della Pace.
Giardini Pubblici Indro Montanelli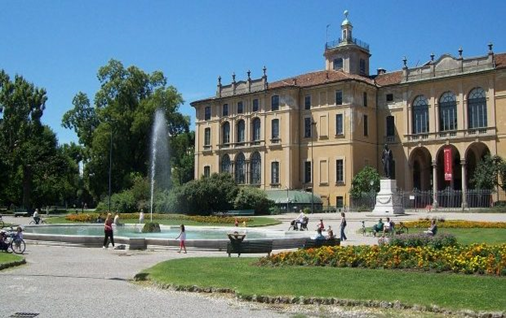 Giardini Pubblici Indro Montanelli ("Indro Montanelli Public Gardens"), also known as Giardini Pubblici and Giardini di Porta Venezia. Several monuments and tourist attractions are enclosed within the park.
Notable buildings include the Ulrico Hoepli Planetarium the Natural History Museum (1892, Giovanni Cerutti), the 17th Century Palazzo Dugnani.
How to get there: M1 (Red Line) Porta Venezia.
Citi Life's Park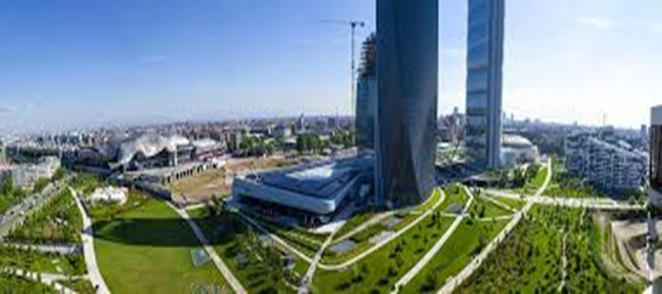 CityLife is a residential, commercial and business district under construction situated a short distance from the old city centre of Milan. The park within the new starchitect district of CityLife will surprise you, for the unique landscape gardening that you won't find anywhere else in Milan that also include a vegetable garden.
How to get there: M5 (Purple Line) Tre Torri or M1 (Red Line) Buonarroti.
Giardini della Villa Belgiojoso Bonaparte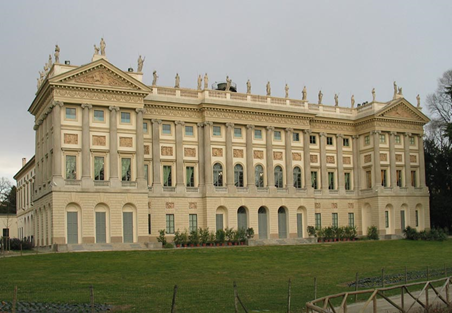 In the Giardini della Villa Belgiojoso Bonaparte there is the Palazzo Belgioioso. It is a palatial residence in the city of Milan, completed in 1781 in a Neoclassical style by Giuseppe Piermarini and it was designed by Leopoldo Pollack. The main entrance is on via Palestro, facing the Giardini Pubblici of Porta Venezia, the eastern gate of the city.
How to get there: M1 (Red Line) Palestro.
Parco Monte Stella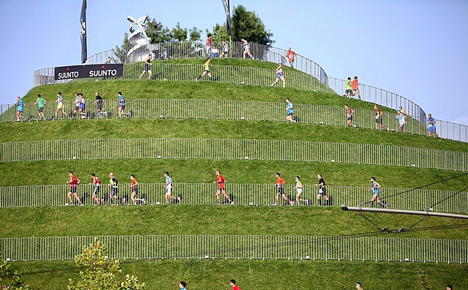 Monte Stella, also informally called Montagnetta di San Siro, is an artificial hill and surrounding city park in Milan. This was an experimental district that was completely designed after the World War. The hill itself was designed by architect Piero Bottoni, who led the team of architects who contributed to the QT8 project. Bottoni dedicated the hill to his wife, Stella.
How to get there: M1 (Red Line) QT8.
Bosco in Città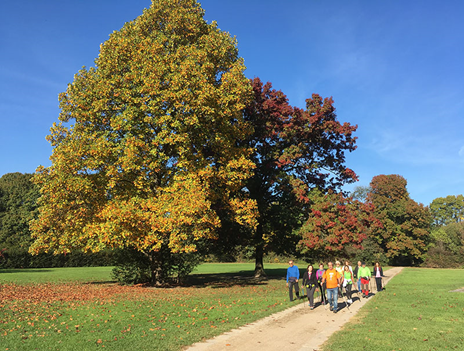 It is not a garden, and neither a park. It's a real forest in the city! This is the first example in Italy of urban forestation, covering 80 hectare area, with dense forest in alternation with meadows, tracks, and agricultural crops. Without moving far from the centre of Milan, nature lovers can savour long and invigorating walks, or ride their bicycles, in this forest, where you can breathe some real country air.
How to get there: with bus 80 (via S. Romanello, Via Novara) or with bus 423 (Via Togni, Via S. Romanello)
Do you like Murales?
In Milan there are a lot of streets with tons of beautiful murales. Here we will show you the most important and beautiful ones!
Vicolo del Fontanile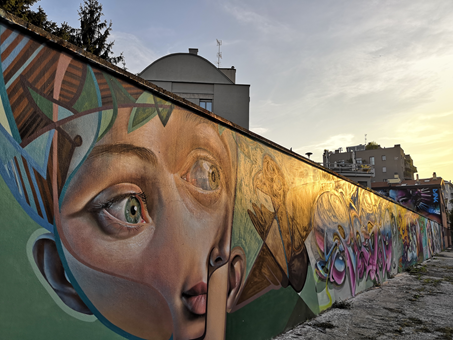 Street: Via Gianfranco Zuretti
Love Seeker and Heart Sling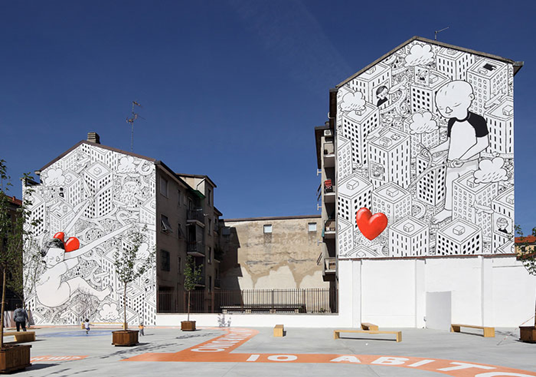 Artist: Millo
Street: Millo "Giardino delle culture", Via Morosini 8
The Little Prince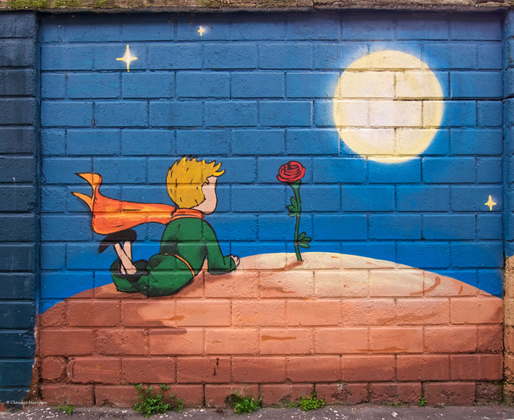 Artist: Tony Graffio
Street: via Angelo della Pergola 12
Tango of Love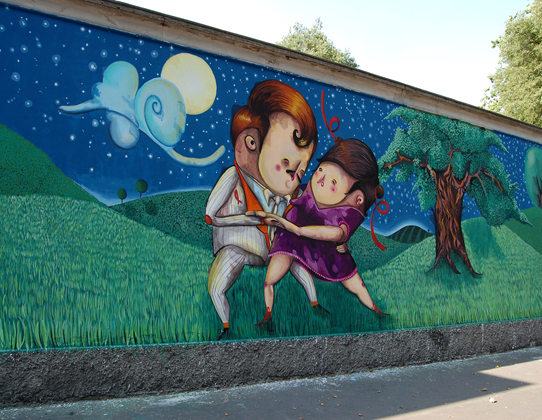 Artist: Cristian Sonda
Street: viale Edoardo Jenner 44
Cucimilano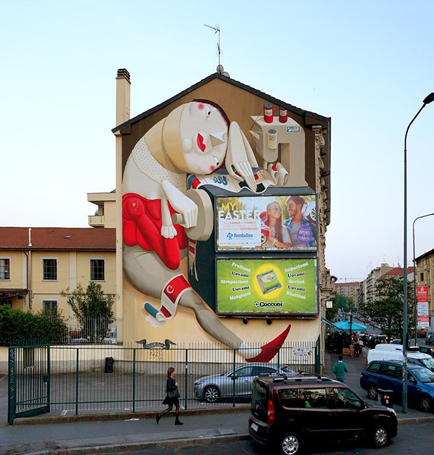 Artist: ZED 1
Street: via Benaco 1
Milan's Museums Guide
The Municipal Milanese museums offer a rich and varied heritage of great artistic and historical value accessible to all: visitors can follow centuries of art and culture.
This guide has been created to briefly describe the Museums in Milan as a practical handbook you can bring always with you!
Before continuing to read, you must know the Initiative "Sunday at Museum": it consists in the free entry on the first Sunday of every month for all the civic Museums.
Milan's best museums:
Museo del Cenacolo Vinciano (The Last Supper Museum)
Pinacoteca di Brera (Brera Art Gallery)
Museo Civico di Storia Naturale (Natural History Museum)
Museo del 900 (the 20th Century Museum)
Gallerie d'Italia
Museo Civico Archeologico (the Archeological Museum)
Acquario Civico (Civic Aquarium)
Musei del Castello Sforzesco (Museums of the Sforza Castle)
Galleria d'Arte Moderna (Modern Art Gallery)
Museo Astronomico di Brera (the Astronomical Museum of Brera)
Museo del Cenacolo Vinciano (The Last Supper Museum)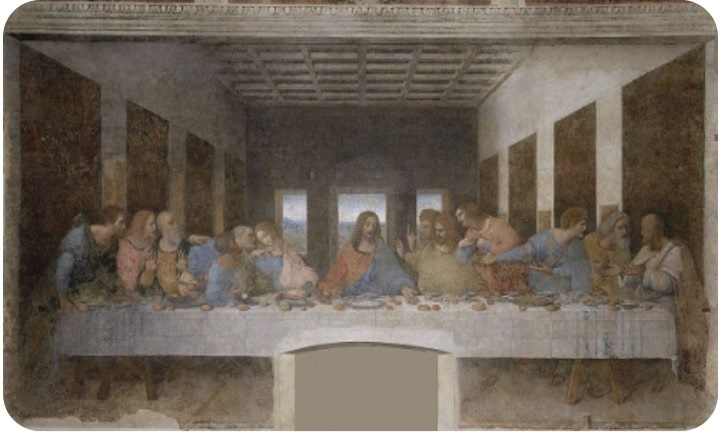 WHERE: Piazza Santa Maria delle Grazie 2, 20123 Milan
WHEN: From 8:15 to 19:00 (last entry at 18.45)
WEBSITE: www.cenacolo.it/the-last-supper
Leonardo da Vinci's The Last Supper (in Italian Il Cenacolo) requires very little introduction since it is one of the most famous works of art in the world, made even more famous by Dan Brown's novel The Da Vinci Code.
The mural painting is located in the refectory of the convent of Santa Maria dellaGrazie, which is adjacent to the church of Santa Maria dellaGrazie, together listed as a UNESCO World Heritage Site.
The church can be visited free of charge and without prior booking.
Since access to The Last Supper is strictly regulated, and only one group of 25 people can visit the refectory every 15 minutes, pre-booking your ticket well in advance is a must.
You SHOULD book by phone at +39800990084 (toll-free number) or at +390292800360 (number with charge).
Pinacoteca di Brera (Brera Art Gallery)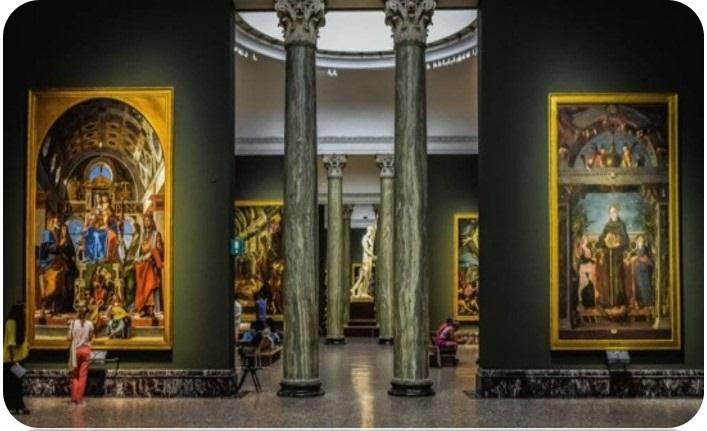 WHERE: Via Brera 28, 20121 Milan
WHEN: From 8:30 to 19:15
WEBSITE: www.pinacotecabrera.org
Brera Art Gallery houses one of the main art collections of Renaissance art in Italy with over 500 works dating from the 14th to the 20th century.
Opened to the public in 1809, it is situated in a beautiful 17th century building alongside the Accademia di Belli Arti (Academy of Fine Arts) in the Palazzo di Brera.
Amongst the collection are masterpieces by Piero Della Francesca, Raphael, Mantegna, Bellini, Caravaggio, Tintoretto and Veronese. There is a small section on modern art which includes paintings by Modigliani, De Chirico and Carrà.
Museo Civico di Storia Naturale (Natural History Museum)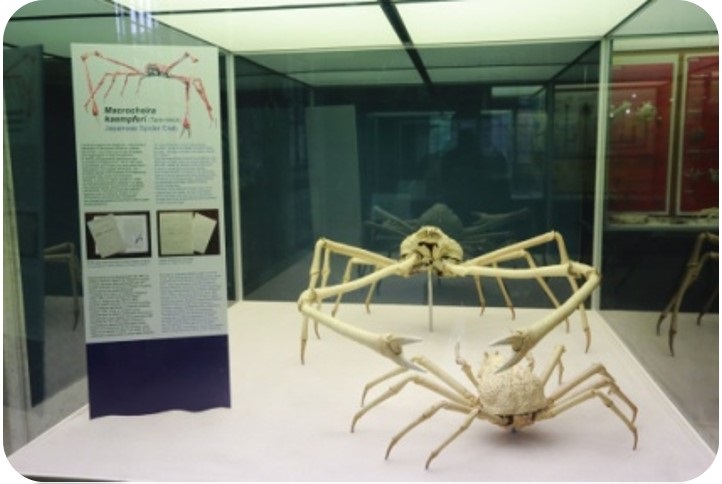 WHERE: Corso Venezia 55, 20121 Milan
WHEN: From 9:00 to 17:30
WEBSITE: www.web.comune.milano.it/museostorianaturale
Natural History Museum is the oldest civic museum in Milan with its current building dating back to the late 1800s with hints of neo-Romanesque and neo-Gothic styles, designed by Giovanni Ceruti.
The museum is located within the leafy grounds of Giardini Pubblici, a public park situated in the historical centre of Milan near Corso Venezia.
It features seven sections that cover everything from the history of mankind to the study of paleontology (with real dinosaur skeletons to view) and zoology: Botany, Entomology, Mineralogy, Palaeontology, Invertebrate and Vertebrate Zoology.
PS: there is free entry also every first and third Tuesday of the month from 2 pm to closing.
Museo del 900 (the 20th Century Museum)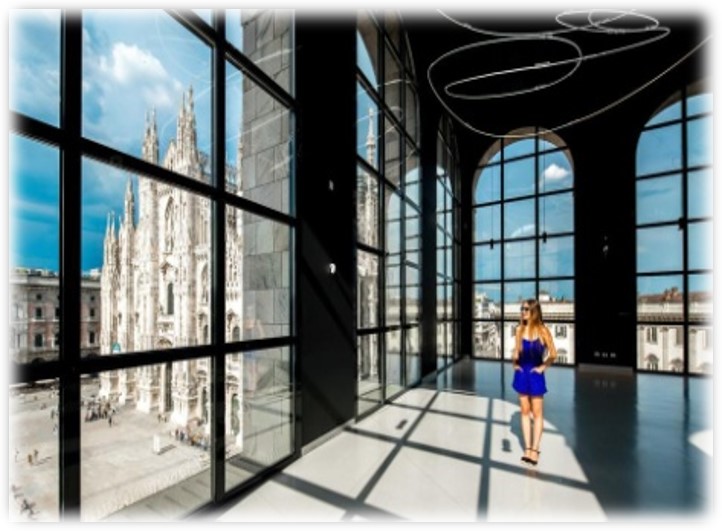 WHERE: Palazzo dell'Arengario, Piazza Duomo 8, 20123 Milan
WHEN: From 9:30 to 19:30 (last entry at 18:30)
WEBSITE: www.museodelnovecento.org
Museum of the 20th century is located right in the heart of Milan nearthe famous Duomo. It houses a dedicated exhibition displaying Milan's superb collection of 20th century art.
The museum follows the timeline from the beginning of the Century up until today and is a real gem for those fascinated by this period.
On view are paintings by Picasso, Modigliani Mondrian, Kandinsky, Boccioni, Carrà, Soffici, De Chirico, Sironi, Martini, Morandi, Fontana, Manzoni and Kounellis, to name a few.
PS: there is free entry also every first and third Tuesday of the month from 2 pm to closing.
Gallerie d'Italia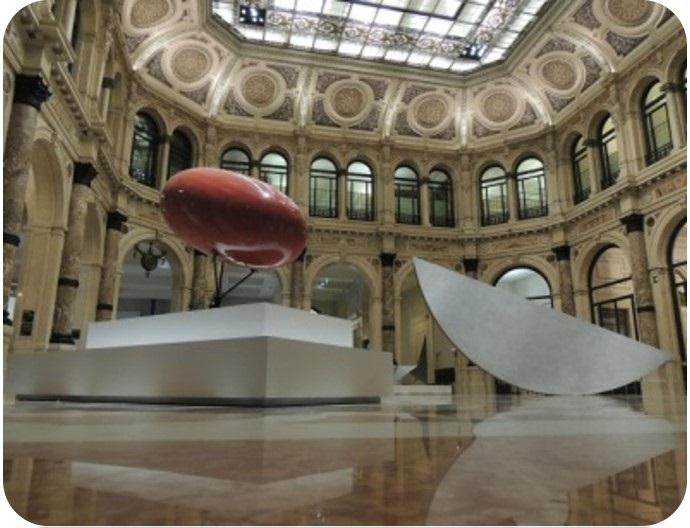 WHERE: Piazza della Scala 6, 20121 Milan
WHEN: From 9:30 to 19:30 (last entry at 18:30)
WEBSITE: www.gallerieditalia.com
Galleria d'Italia Piazza Scala, a symbol of Milan's rich history, is housed over three adjoining mansions (Anguissola, Beltrami and Brentani), one the former seat of Banca Commerciale Italiana.
The design of the museum is truly remarkable, with some of the bank's period furnishings still in place, including some original bank counters which have been tastefully integrated into the design of the new museum. From a closed, off-limits area, the vault provides a glimpse of what cannot be displayed in the gallery rooms. Guided visits to the vault are possible by appointment only, with specialised tour guides.
The exhibitions are split into two main periods:
"The 19th century exhibition"
An exhibition that retraces one hundred years of Italian art history from the 19th century.
"The 20th century exhibition"
An ambitious project presenting 189 works of art from the 20th century arranged in 12 sections.
Museo Civico Archeologico (the Archeological Museum)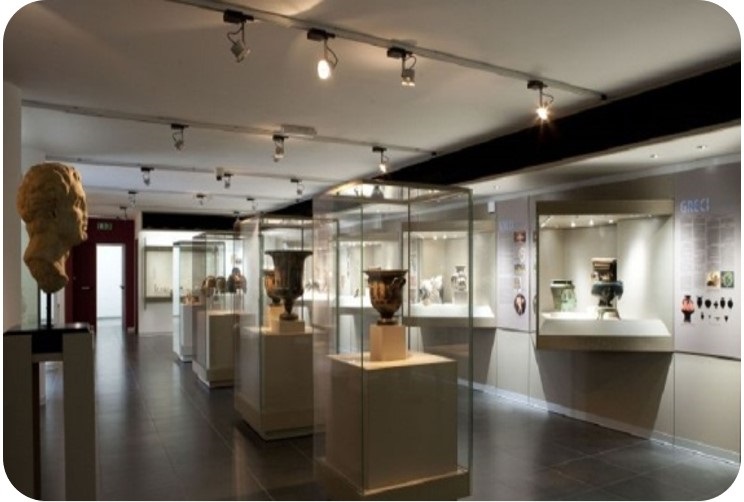 WHERE: Corso Magenta 15, 20123 Milan
WHEN: From 14:00 to 17:30
WEBSITE: www.museoarcheologicomilano.it
Civic Archaeological Museum of Milan is housed within the ex-convent of the Monastero Maggiore combined with the church of San Maurizio. The inner cloisters reveal the remains of a Roman dwelling from the 1st-3rd century, as well as a section of the original Milan city walls and a medieval polygonal tower.
The collection covers a wide range of periods, regions and types of objects. From Etruscan statues to coins of ancient Milan (then called Mediolanum), and fromGreek vases to golden rings from the Middle Ages. The Prehistoric and Egyptian sections of the Archaeological Museum are housed in the Sala Visconti of the Castello Sforzesco.
PS: there is free entry also every first and third Tuesday of the month from 2 pm to closing.
Acquario Civico (Civic Aquarium)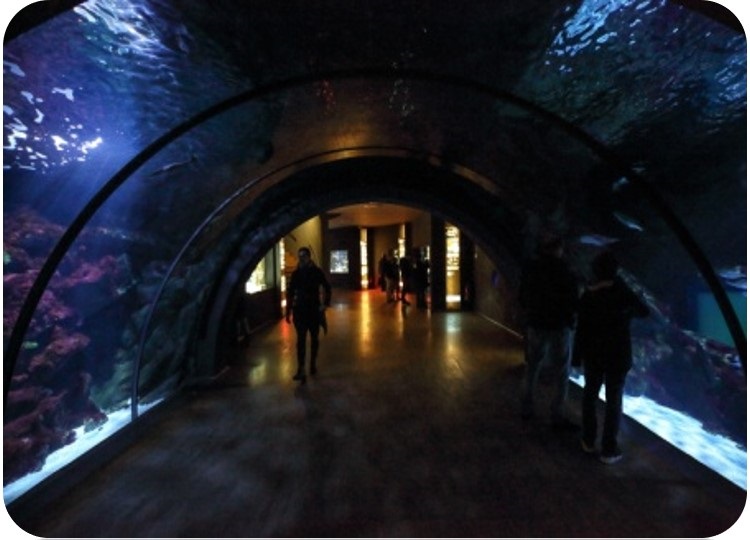 WHERE: Viale Gadio 2, 20121 Milan
WHEN: From 9:00 to 17:30 (last entry at 17:00)
WEBSITE: www.acquariocivicomilano.eu
Civic Aquarium of Milan is the third oldest aquarium in Europe.This small but beautiful aquarium, located at the edge of Milan's largest public park, Parco Sempione, houses many varieties of sea creature in well-maintained and clearly labelled display tanks.
There are over hundred species of fish, crustaceans, molluscs and echinoderms from the Mediterranean and the Red Sea, plus rare tropical and freshwater fish. The exciting exhibition sequence is heralded, even before going inside, by the fountain featuring the god Neptune masterfully wields his trident, part of the façade decoration. The Aquarium is in fact housed inside a superb Art Nouveau building, with exterior decorations on aquatic themes, arranged around the God of the sea.
The building in which the Aquarium is housed is also the location for the Hydrobiological Station and the specialist Library for marine biology and aquatic science, an ideal location for learning more about life in the sea.
PS: there is free entry also every first and third Tuesday of the month from 2 pm to closing.
Musei del Castello Sforzesco (Museums of the Sforza Castle)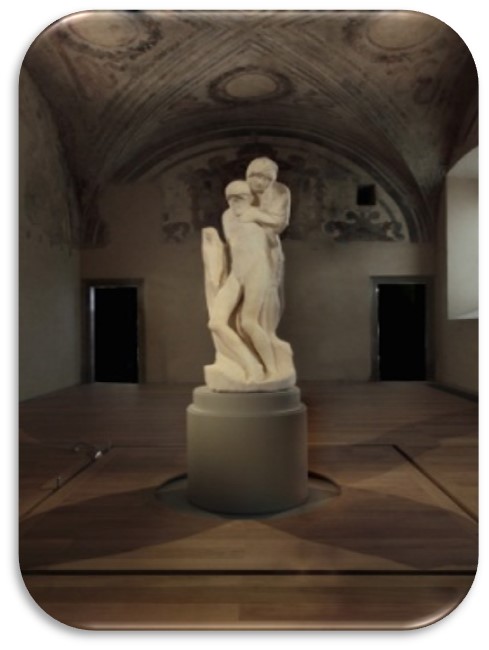 WHERE: Piazza Castello 3, 20121 Milan
WHEN: From 9:00 to 17:30 (last entry at 17:00)
WEBSITE: www.milanocastello.it
The Castello Sforzesco is an imposing building dates back as far as 1450, an expression of the Visconti and Sforza courts; it houses a collection of small museums, which are all accessible with the same ticket and will keep you occupied for quite some time:
Antique Furniture & Wooden Sculpture Museum
Applied Arts Collection
Archaeological Museum (with Egyptian and Prehistoric sections)
Museum of Ancient Art
Museum of Musical Instruments
Pinacoteca (Picture Gallery)
Highlights of the collection are Michelangelo's last sculpture, on which he was working until days before his death, la Rondanini Pietà, and the masterpieces in the Pinacoteca by Mantegna, Canaletto and Tintoretto.
On the first Sunday of the month, as part of "Sunday at Museum", the admission ticket is reduced at 5€ for the whole day.
Currently, the "Milan and Leonardo 500" programme is taking place to celebrate the 500th anniversary of the death of Leonardo da Vinci, it includes three different exhibitions:
Sotto l'ombra del Moro. La Sala delle Asse (from 16 May 2019 to 19 April 2020)
Intorno a Leonardo. Opere grafiche dalle collezioni milanesi (11 September-15 December 2019)
Leonardo a Milano (from 16 May 2019 to 19 April 2020)
For more info: Leonardo Mai Visto.
Galleria d'Arte Moderna (Modern Art Gallery)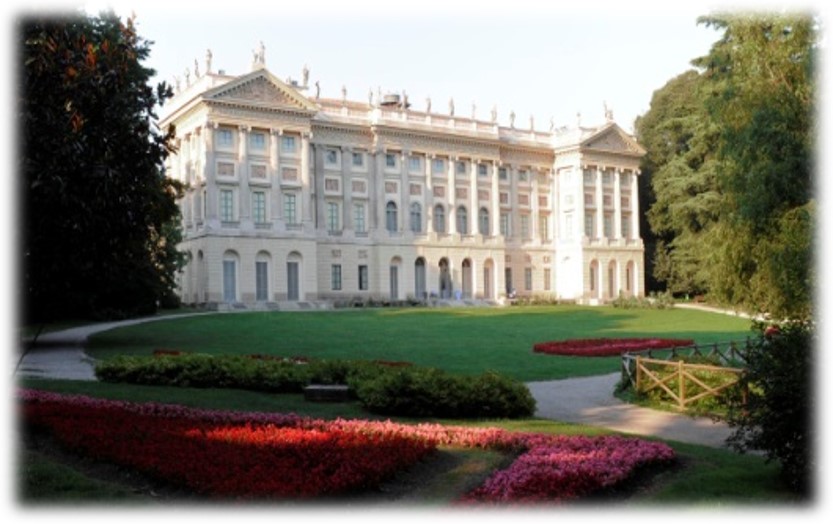 WHERE: Via Palestro 16, 20121 Milan
WHEN: From 9:00 to 17:30 (last entry at 17:00)
WEBSITE: www.gam-milano.com
The Gallery of Modern Art (also known as GAM) is one of Milan's most important art galleries, located in the majestic Villa Reale, a sumptuous palazzo where Napoleon once resided. The gallery is filled with works by Lombards and other Italian painters like Modigliani and Boccioni plus familiar works by non-Italian modernists such as Gauguin, Cézanne, Picasso, Van Gogh and Manet.
The upper floors of the museum house the equestrian works of 20th Century sculptor Marino Marini. At the rear of the villa there is a charming garden which provides a natural landscape where you can sit calmly and enjoy a peaceful relaxing moment away from the hectic pace of Milan life. Within the grounds there is also a small but delightful "botanical garden" with many shrubs and herbaceous plants to wander through.
Museo Astronomico di Brera (the Astronomical Museum of Brera)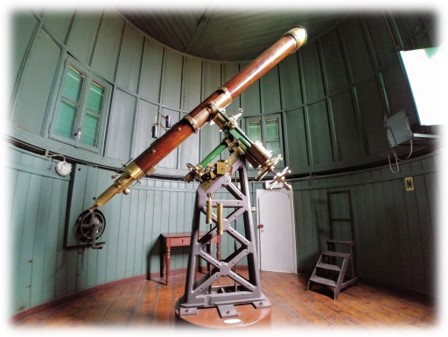 WHERE: via Brera 28, 20121 Milan
WHEN: from 9:00 to 16:30
WEBSITE: http://museoastronomico.brera.inaf.it/en/
Every second Sunday of the month it will be possible to visit the Observatory's Gallery of ancient instruments for free.
The Astronomical Museum of Brera is located in Palazzo Brera, in the heart of Milan, in the historic seat of the Astronomical Observatory, the oldest scientific research institute of the city. The museum displays the astronomical instruments used by the astronomers in Brera since the 18th century, together with scientific instruments from historical collection of the University.
List of museums always with Free Admission in Milan
Useful info - Cards
Musei Lombardia Milano: allows admission to all the Civic Museums for one year, it is valid for one year from the date of issue and it is on sale on line (without costs presale) and the ticket offices of the Civic Museums. €45.00 (€32.00 if <26 years old);
Abbonamento Musei Formula Extra: allows admission to 300 Museums in Lombardia and Piemonte for one year. €87 Eur (€62 if < 26 years old).
Tips & Tricks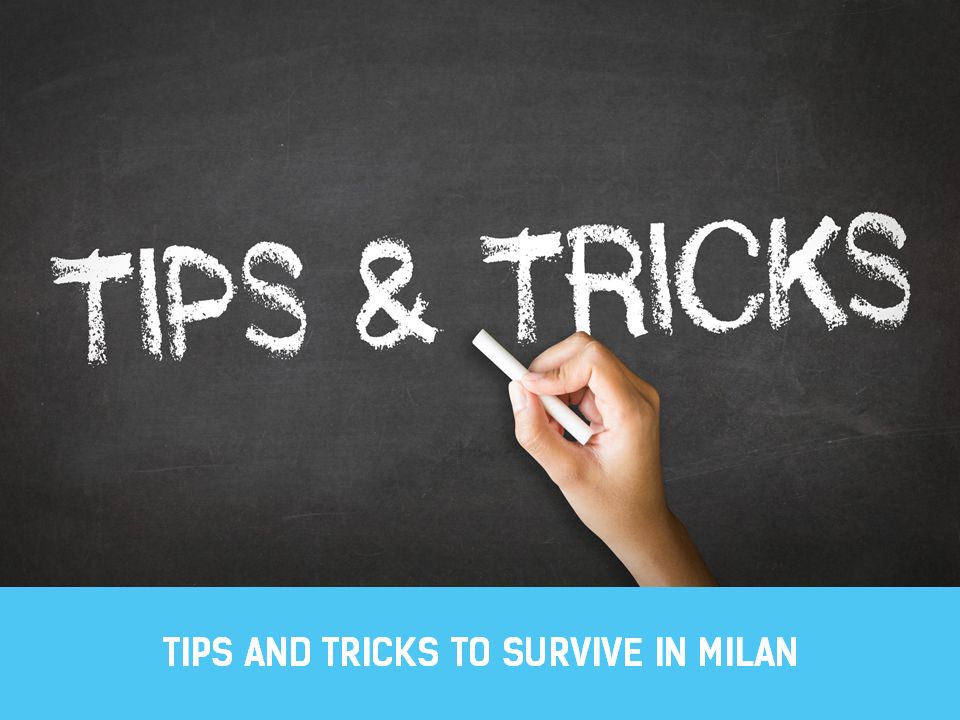 Weather
Moving to another country means facing completely different conditions than what you're used to.
Let's start from the weather.
Italy is famous to be a warm and sunny country, which is true, but don't forget Milan is in the North and close to the mountains.
Autumn and winter are usually rainy seasons and it snows really few times. It's usually cold, between 9° and 15° degrees Celsius in autumn and 0° and 10° degrees Celsius in winter.
On the other side we have spring and summer. Still some rains during the first months of spring, but the temperature starts to raise, and sun and warm from May on. Summer can be really hot and humid, from the middle of June to the end of September, with temperatures usually from 25° to 35° degrees Celsius. There may be some storms, but they usually last few minutes and then the sun comes out again.
For autumn and spring in particular, which are the middle seasons, we suggest what we call "onion clothes": always wear different strata of clothes so you can catch up with the changes in temperature and weather during the day!
Currency
Regarding the currency, Italy is one of the 19 countries of the Eurozone.
Milan is one of the most advanced cities of Italy, so you won't have problems paying by card, any App for the mobile, or any new type of payment mode. However, in smaller cities or villages around Italy, they may not have all those systems, which will require payment by cash. We suggest, anyway, to always have 10/20 euros cash with you for any inconvenience!
Mostly when you go out with a group of people, some pubs or restaurants in Italy don't let you pay for your consumption, but they make a single check. It's an Italian custom to pay "allaromana" (lit. Roman way), which means the final check equally divided per the number of participants.
Milanese people
Milan is known to be a very dynamic and lively city. People moving really fast around the streets to get to work or university is the normality, try not to interrupt their rush
On the escalators, for instance, stand always only on the right side, so that people who have to run can pass on the left!
Language
Italian language could seem difficult, but don't worry, in a short time you will learn it! For your very first days in Italy, here some basics of the language:
Ciao = Hello
Come stai? = How are you?
Bungiorno = Good morning
Buonasera = Good evening
Grazie = Thank you
Prego = You're welcome
Per favore = Please
Mi chiamo … = My name is …
Sinistra = Left
Destra = Right
Vorrei un caffè, perfavore = I would like an espresso, please (when you order coffee in Italy, it automatically means espresso)
Io vengo da… = I come from…
Italian Festivity
Capodanno - New Year's Eve: 1st January
Epifania/Befana: 6th January
Pasqua/Easter: 12th April
Lunedìdell'Angelo/Pasquetta: 13th April
AnniversariodellaLiberazione – Liberation anniversary: 25th April
Festa del lavoro –Labour day: 1st May
Festa della Repubblica – Republic Day: 2nd June
Ferragosto o Assunzione: 15th August
Tuttii Santi (Ognissanti): 1st November
Milan's Patron Saint's Day (San'tAmbrogio): 7th December
Immacolata Concezione: 8th December
Natale/Christmas: 25th December
Santo Stefano – Saint Stefano: 26th December
Contacts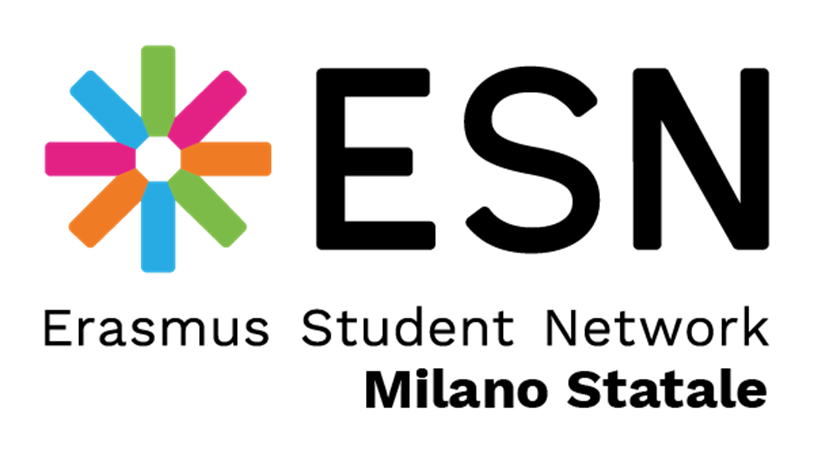 Milan | ESN Milano Statale
Via Festa del Perdono 7, 20122 Milano